It's giveaway time again at Vintage Charlotte! Here are the details:
One lucky Spring Market attendee will win our giveaway! This giveaway is completely packed full of handmade and vintage gifts you can give to your friends and family (or give to yourself!!)! Several of our Spring Market vendors have contributed to this giveaway, all of the items described in this post are included in the giveaway, PLUS you'll also receive two early bird admissions to the Market! The winner MUST claim their prize IN PERSON at The Vintage Charlotte Spring Market (April 16th at Camp North End 21st).
Ways to enter (do all four for increased odds!):
Up to four entries per person! Winner will be selected at 6pm on Friday, April 15th. Good luck!
Official Giveaway Photo: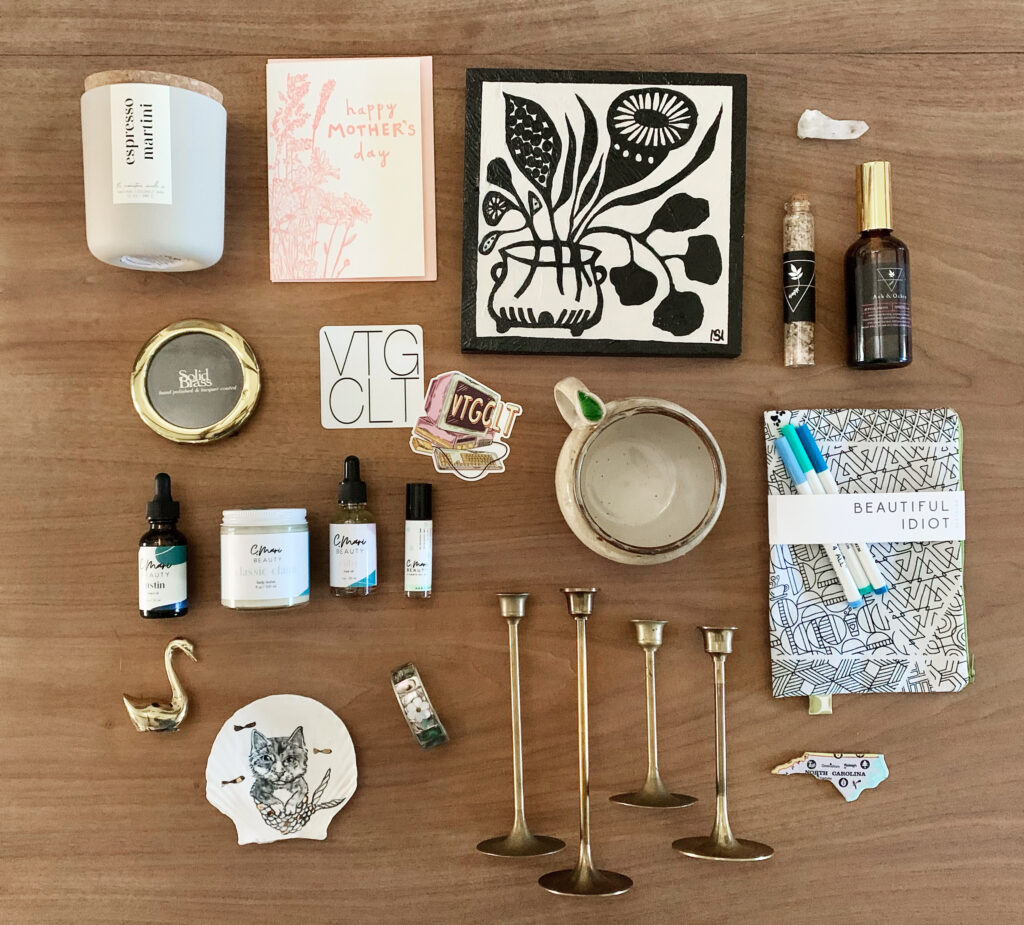 The goodies include:
– 2 Early Bird Admissions to The Spring Market (10-11am) and two VTGCLT Stickers
– Espresso Martini Candle from The Moonstone Candle Co.
– Letter Press Mother's Day Card from Macon York Press
– Original Black and White Painting from Shannon Newlin
– Mini Quartz, Ritual Spray, and Bath Salts from Ash & Ochre
– Brass Swan, Round Brass Frame, Brass Candlesticks Set, and NC Magnet from Maliasmark Vintage
– Mug with Glass Handle Detail from Two Ships Pottery
– Colour Your Own Pouch from Beautiful Idiot Clothing
– Classic Claire Body Butter, Justin Beard Oil, Glo Lip Oil, and Ruby Rose Oil from C.Mari Beauty
– 1960's Mother of Pearl and Abalone Cuff from Heart's Desire
– MerCat Shell Dish from Golden and Grey